WAGS Expresses Our Sympathy to
Melanie Broughton
for her loss of Darcy
Hosparus says their goodbye
as well
in their Newsletter

Molly, MY Girl, I rescued you, but you
rescued me. You came from 
your past into a compassionate
realm of openness. You never, ever  shut anyone out.  Instead
you showed me the wonders of pet therapy.  Moods were miraculously
elevated by your loving presence.  I was told once that
I was blessed to have you,
and now it is your turn to be blessed;  dreams forever, no more delays,
no rain, no thunder, and belly rubs in the purest of snow.
  Me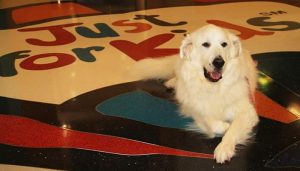 See how She Loved Her Job
If you are a member who has suffered the loss of your beloved pet, contact the Web Manager in your account page. 
We want our membership to be able to sympathize with the impact of their absence.  We will post this loss for up to one year with your permission.
When you are ready PLEASE LOGIN to do this and let the membership know of your loss.  The Web Manager and you will design your notice together.