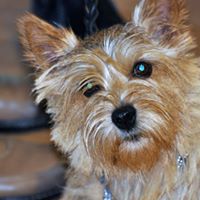 Linda Laun is one of the original WAGS founders. It is challenging to capture the complete essence of a person in print, but I hope this interview inspires you to seek her out. In my visit with her, she imparted dog wisdom, general wisdom, and told me a life story that shows how much a good woman of strong character with creative ideas can accomplish.
WAGS started with four dogs and four people, all of whom were friends. Soon, more friends joined, and now, just over twenty years later, has grown to approximately 100 Ambassador Teams eligible to visit and 221 members. What is the "secret sauce" that has held it together? Linda says that a member is "not just a name on a membership roster. We are a group that supports and understands each other." That it is not to say that the group always agrees. Linda recalls many a meeting with strong, differing opinions shared. But, by the end of the meeting, when the votes were taken (never by secret ballot), everyone would champion the decision made by the group. Despite disagreements, the group has never segmented or fractured, but rather has kept building and growing.
Much has changed since 1999, and Linda is most proud of the role WAGS has had in proving the importance of dogs in the world of healing. With a smile, she told me she has "been kicked out of the best places in town" as they began their initial visits. At that time, little was understood about the difference between a pet and a therapy dog. Now, therapy animals are respected and requested. And the impacts are long-lasting; she has people she visited twenty years ago approach her and reminisce about their time together. Even short interactions have left an enduring impression.
As a newcomer, I am struck by how thorough the training and detailed the rules for WAGS are. Linda assured me this is no accident, but a style that was developed from long years of experience. "Keep calm and don't be argumentative" comes directly from her experience of being asked to leave Baptist Hospital by the security guard. "Always have the phone number and contact information of your contact person with you" came from that same interaction.
Linda has a million stories to tell, but one theme is that miracles have occurred. On a visit with her first therapy dog, Woody, she met a young man who had been paralyzed in a motorcycle accident. He was unresponsive to pain, light, and touch, and his eyes were not tracking. The family was truly discouraged. Yet, during the visit, the man tracked Woody with his eyes and made the first step toward healing. Somehow Woody triggered a "deep-seated response that hadn't been touched before." Linda assures us all, if you continue to do this work, you will also witness a miracle.
She saw the wonder of healing again with a young boy who was a refugee from Kosovo. He had been attacked by a guard dog and had subsequent night terrors and horrible fear. Linda started by holding Woody ten feet away from the boy and behind a glass wall. Slowly, slowly they decreased the distance. By the last visit, the boy was able to brush Woody's teeth! Well, Linda thought it would be the last visit – but the boy had other ideas. He wanted his younger sister to meet Woody too, and overcome her fear. The boy, who had been so terrified, introduced his sister to the wonders of being with a dog.
WAGS is all about connecting with people. Linda says that even when a nursing home resident tells you "no visit," they often then follow up with some question to engage you. The dog provides the opening for a conversation. But how do you stay connected enough with your dog to provide these opportunities? Linda says it is all about you and your dog having quality interactions and time together. It is most important that your dog sees you as totally trustworthy. The main goal is for nothing scary ever to happen to your dog. Take things slowly. Do a lot of planning. Be aware of your surroundings as they relate to your dog. Build a history as a "caretaker advocate," so one bad interaction does not cause your dog to fall apart. After you have built the trust, you will have a dog who is willing to try new things and can connect with others in need.
Linda saw these rules work for her in real time. On her first solo nursing home visit, there was an actual fire. The fire trucks came with sirens blaring, and the firemen proceeded to use their hoses and axes to put out the fire. And through it all, Woody was just fine! He totally trusted Linda to take care of him, no matter how crazy the world became.
Do you want to feel like a "real" member of WAGS? Linda has great advice – "as soon as you contribute, you will stay." She suggests you volunteer for one (and only one) role. Then you, too, will feel a part of this inspiring group and want to stay. How fortunate we are to have this opportunity!