WAGS News Interview with Linda Laun
Leonardo Loved the Spotlight
February 2019
By Patty Finley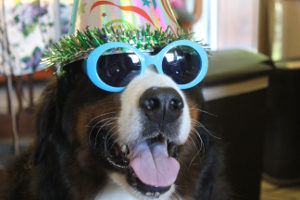 Leonardo was the most difficult dog I had ever owned. For the first two years of his life, I had to crate him to take a shower or throw a load of clothes in the washer because he would eat something he shouldn't have. One day I discovered Leonardo had a hip problem. A series of consultations led me to Ohio State University where I was told he would never be able to have any type of hip surgery to correct his problem. I was told to be very cautious not to risk an injury to his femur because of the damage done by what we suspected to be a spider bite at six months of age. This was the treatment plan…working with him and for him. I was asked to 1) take 15 pounds off him 2) take him in to rehab to strengthen his hip and 3) do something to stimulate his brain. He went from the most difficult dog I ever owned, to the dog I have always wanted. After that day he began to change. We did things together that I had only ever dreamed of doing with my dogs. He opened doors and windows to go places, meet people, and to experience things… and he was always smiling…. always doing it HIS way.
I learned so much from Leonardo. Leonardo, while I was not pleased when I discovered that Amanda had named you after a Ninja Turtle, I now understand why that name has become important to your life story. I ended up being ever so grateful that she did. You fought for the good in life to overcome the bad in life.
There were things that I wish I never had to experience but because of what had happened he cheated death six times. I learned about Fibrocartilaginous Embolisms, about IBD and Lymphangiectasia, about MRI's, CT scans, bone marrow biopsies and joint taps and finally about Hemophagocytic Histiocytic Sarcoma. He taught me to smile even when it was raining…because when you get your coat all wet you get a great towel massage. He taught me to wiggle when my back itches because it is so much more fun to recruit a back scratcher that had five fingers and a hand attached, than being sensible and using stationary item for a back scratcher. He taught me about integrative veterinary medicine and that sometimes our Western medicine just doesn't have all the answers. He taught me to live life LOUD…. full of enthusiasm for each new day.   He was full of joy, as he would jump up to give a Berner hug, a Berner bump, or the Berner lean.
Finally, he taught me to live each day as it comes because you don't know if there will be a tomorrow. He was the smartest, sweetest, most sensitive and intuitive dog I have ever owned. He was an AMAZING therapy dog not only in the assisted animal therapy sense, but also for me … to get up, get dressed, and go out and do things. It was sensing as if he had said, "We are not made to be couch potatoes Mom."
This was my guy and we were a team and we will always be a WAGS TEAM forever to be remembered.