WAGS News Interview with Linda Laun
WAGS 2019 Volunteer Banquet 
by Ann D'Angelo
WAGS members and their families and friends gathered at St. Matthews Episcopal Church Assembly Hall on March 30, 2019 for the annual WAGS Volunteer Awards Banquet. A record ninety-five attendees began the event by exploring the long tables on both sides of the hall filled with over 100 donated door prizes and bowls of treats for our canine and feline partners.
A delicious catered buffet luncheon that included vegan and gluten free dishes was enjoyed by all. There was a bounty of delicious food choices offered on four tables.
The guest speaker for the day was Dr. Ruth Schmidtchen of Blue Pearl Pet Hospital. Dr. Ruth specializes in animal rehabilitation
and physical therapy and gave a very interesting talk on the types of injuries she encounters in her practice. Among canine patients, her area of practice is especially valuable with the increase in canine sporting events. Dr. Ruth discussed various treatments for dogs participating in agility, dock diving, schutzhund, and even competition obedience. She gave a review of the types of therapy and pain management for companion dogs and felines, as well as horses.
Dr. Ruth's presentation was followed by the recognition of 2018 WAGS Board members, committee chairs, evaluators and skilled assistants. Ninety awards were given to members recognizing volunteer hours and contribution of time to WAGS. From Linda Laun's record- holding 9,826 hours down to a new member's 3.5 hours, all members received a certificate, or a certificate and pin. This year saw the welcome return of award pins for milestone hours thanks to a budget increase and special donations for this event.
The prized WAGS Volunteer of the Year Award had two sets of award recipients for 2018. Linda Laun, Mary Beth Orton, Dottie Chapman, Tami Harbolt, and Kait Seyal were recognized for their invaluable and extensive work on the WAGS Volunteer Manual. Dottie Chapman was awarded the Volunteer of the Year award in her own right for her many special contributions to WAGS.
Melissa Taeger received gifts of appreciation and recognition for her leadership as a vice president who graciously filled an unexpected presidential void. Melissa's eighteen months tenure was busy and successful - the website was developed, the Volunteer Manual was rewritten, membership grew, and the pass rate for evaluations improved dramatically.
WAGS 2019 Volunteer Awards Banquet was enjoyed by all who attended. Patty Finley received special recognition for her work in organizing and making this year's banquet an outstanding success.
Leonardo Loved the Spotlight
February 2019
By Patty Finley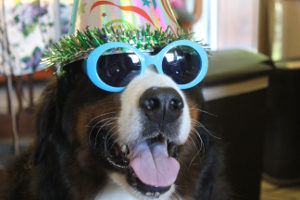 Leonardo was the most difficult dog I had ever owned. For the first two years of his life, I had to crate him to take a shower or throw a load of clothes in the washer because he would eat something he shouldn't have. One day I discovered Leonardo had a hip problem. A series of consultations led me to Ohio State University where I was told he would never be able to have any type of hip surgery to correct his problem. I was told to be very cautious not to risk an injury to his femur because of the damage done by what we suspected to be a spider bite at six months of age. This was the treatment plan…working with him and for him. I was asked to 1) take 15 pounds off him 2) take him in to rehab to strengthen his hip and 3) do something to stimulate his brain. He went from the most difficult dog I ever owned, to the dog I have always wanted. After that day he began to change. We did things together that I had only ever dreamed of doing with my dogs. He opened doors and windows to go places, meet people, and to experience things… and he was always smiling…. always doing it HIS way.
I learned so much from Leonardo. Leonardo, while I was not pleased when I discovered that Amanda had named you after a Ninja Turtle, I now understand why that name has become important to your life story. I ended up being ever so grateful that she did. You fought for the good in life to overcome the bad in life.
There were things that I wish I never had to experience but because of what had happened he cheated death six times. I learned about Fibrocartilaginous Embolisms, about IBD and Lymphangiectasia, about MRI's, CT scans, bone marrow biopsies and joint taps and finally about Hemophagocytic Histiocytic Sarcoma. He taught me to smile even when it was raining…because when you get your coat all wet you get a great towel massage. He taught me to wiggle when my back itches because it is so much more fun to recruit a back scratcher that had five fingers and a hand attached, than being sensible and using stationary item for a back scratcher. He taught me about integrative veterinary medicine and that sometimes our Western medicine just doesn't have all the answers. He taught me to live life LOUD…. full of enthusiasm for each new day.   He was full of joy, as he would jump up to give a Berner hug, a Berner bump, or the Berner lean.
Finally, he taught me to live each day as it comes because you don't know if there will be a tomorrow. He was the smartest, sweetest, most sensitive and intuitive dog I have ever owned. He was an AMAZING therapy dog not only in the assisted animal therapy sense, but also for me … to get up, get dressed, and go out and do things. It was sensing as if he had said, "We are not made to be couch potatoes Mom."
This was my guy and we were a team and we will always be a WAGS TEAM forever to be remembered.
WAGS Annual Christmas Gathering
By Anita Kotheimer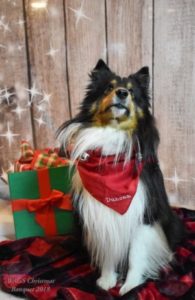 Many of our members started their Christmas season early by attending our annual Christmas Party.There were so many wonderful people that made our holiday party happen. Miriam Long and Karen Kirby were the members that coordinated most of the event. They organized photos, volunteers, helped with raffle items, made the centerpieces, organized/picked up flatware, napkins, cups, etc for the brunch, so many things and so much lovely talent. I'm not sure this event would have happened without them.
Marcella Brooks was the mastermind behind our decorations. She brought so many lovely decorations and holiday cheer from home made it look like Christmas for us. She also made and donated a beautiful wreath for the raffle.
We had fun with the especially with the photo shoot which says it all in the "pictures". Lillian Kapsolias has given us a sample of the raw talent we have for "Hamming it up" for the camera.   Lillian also helped with the set up Friday evening and Saturday morning. She was such a huge help. Miriam's daughter, Heather Long, was the other photographer at the party helping everyone look their best.
Dottie was there for set-up Friday night and also came in Saturday morning to unlock and make sure things were in order. As always, Dottie is indispensable.  Also on our fabulous Friday evening set-up crew - Jennifer Buhl, John Seyal, and Linda Laun with her granddaughter.
Of course there is the membership who attended on Saturday who brought wonderful brunch items for everyone to enjoy. There are so many people that deserve credit.
Not to slight anyone, "Thank you" Kait Seyal, you did a fantastic job on the event and you get to do it again next year as our reigning 2nd VP.
I hope to see everyone at the January meeting.
Things That Go Bump in the Night
written October 2018
by Ann D'Angelo
There's a different feel in the air these days as summer leaves us behind and the season moves further into autumn. The spiders are building their webs in earnest on the overhang of my back porch; morning light arrives later, and the evening darkness settles in more quickly. The summer perennials look weary, and I know it will soon be time to tidy the flowerbeds and say goodbye for another long winter. Just ahead is the seasonal promise of golden and scarlet leaves, brisk days and chilly evenings. It's time to fill the trick or treat bags with goodies, load the fireplace with logs, light the grinning jack o lanterns on the front porch, and celebrate Halloween.
Halloween always makes me think of experiences in my life I can't explain, no matter how the reasonable side of my brain attempts to sort out the impossible. Occasionally, my beloved animals have been a part of those experiences. I have lived with both felines and canines my entire life, and dearly love both species. My dogs have always been practical, grounded to the earth and the physical things around them. But I find that my felines are more ethereal, and attune to the mysterious and unexplainable. In the past, I've had experiences with them that justify my belief.
Horus the Sphynx cat and I were on a visit at Treyton Oak Towers several years ago. We were asked to wait in the hallway until a nurse had finished with our Hosparus patient. I stood outside the door holding Horus, waiting for someone to tell us it was time to enter. We were alone in the hall. At least I thought we were alone. Horus raised his head and stared at something to the right. His head turned as he watched it walk past us and down the long hallway. Horus stared but did not seem afraid. He was my partner and I took my cue from him. I wasn't afraid, but I was mystified that he obviously saw something near us that I did not.
Years ago, I lived in a house in Lexington with a reputation for being haunted. The previous owners assured us that it was the harmless ghost of an elderly lady who grew up in the house and lived there until she died. They called her Mrs. Nesbitt, and warned us that we might hear footsteps on the wooden floors. Occasionally we did hear the footsteps, and I only became alarmed one evening when I thought someone had broken into the back of the house. Of course, there was no one there. At the time, I lived with Billie, a Labrador Retriever, and Naz the Siamese cat. Both were highly intelligent, but Naz had that extra feline ability to sense what was not physically present. One morning, I was getting ready for work and out of the corner of my eye saw a shadow on the narrow stairs that led to the second floor. I dismissed it as my imagination, but then I noticed Naz sitting in the hallway, his head rising as he followed the steady progress of something climbing the stairs. I knew then that my eyes were not playing tricks. Naz could see something that I could not. From experience, I've learned to respect the extra sensory abilities of my felines.
I hope all of you enjoy this season of mystery and beauty. If you have busy cats like mine, those strange noises you hear at night may simply be your felines tearing up and down the stairs, banging against doors, opening the stove and rattling pans, or turning on light switches with their teeth. That's what happens at night in my house. For now, I will just blame it on Vincent, Horus and Merlin!
WAGS Annual Volunteer Banquet on April 28th
written May 2018
by Anita Kotheimer
For many of the members it is not about the recognition, it is all about the task we get to perform. The teams that are in our organization do their job and expect no recognition except to know that they have warmed the heart of someone. That capacity to "reach out" to another human being takes on many forms in our community. For some it is simply to spread contagious love, joy and affection. Many of our teams have compassion that qualifies as saintly. Many of our pets that have been volunteered for each task cannot even read this article but their hearts are expressed in the work that they do. I am talking about our therapy animals! Not one of these heroic pets was at the banquet, but they were represented by WAGS as the mainstay of our organization. My guess is that they would want to contribute to running the organization; however that vision would be hilariously chaotic, filled with romping, attention getting tricks, forever kisses and tail sniffing!
We gleefully experienced the better vision at The Banquet on April 28th.   It was a 'Thank You' to the tireless efforts of our volunteers. Thanks also to Cindy Green for organizing the Banquet. This year the volunteers of WAGS are more organized than ever and the future looks bright. Our Officers and Committees are digging into and re-organizing our charitable organization. There are statistics that maybe you are interested in knowing and I will share them after I first tell you about our guest speaker.
Our guest speaker for the Banquet was Stephanie Roby. What a delight to hear how she is making a difference for "furry animals" who were ready to be abandoned. She shared the information about her organization's work at saving the lives of so many furry creatures big and small. It started with a face book page named Louisville Lost and Found Pet Advocates. Check it out on Facebook for your self!
It has grown to more than 13,000 followers. Their mission has been to rescue, rehome and provide financial medical support to the veterinarians who treat pet's serious life threatening issues. These donations are funneled directly to the veterinarians who treat these animals.
Nothing short of selflessness is how they work. Phone calls or Facebook posts send them into action. The hurricane rescues in Louisiana were just one of their projects to rehome pets who were lost or abandoned. Check out their Facebook page to see how they intervened and how they involve themselves through a network of pet lovers. These volunteers take serious responsibility for the compassionate care of animals that are facing the unknown "end of the road" scenarios.
As for the Banquet, the day had a program of awards in store. Certificates were given for total hours ranking from the highest amount over twenty years awarded to Linda Laun, to those of the newest members who have jumped in and generated visiting hours without hesitation. Currently we are approaching 500 members. Did you know that there were over 2,077 hours recorded visiting facilities and attending special events in 2017? The behind the scenes hours that contributed to non-visiting hours totaled 3,973. These non- visiting hours represented such jobs as evaluating teams, educating members, communicating, organizing, promoting and keeping WAGS visible as a first class volunteer organization. We are proud to announce that the volunteer of the year award went to Tracy Harvill, our Treasurer for WAGS.   Other members who have given unselfishly to WAGS were recognized by their recordable hours. The list of the top contributors for 2017 were noted at the Banquet and applauded. This list included:
Don Sharp
Dottie Chapman
Roslynn Curtis
Anita Kotheimer
Tracy Harvill
Melissa Taeger
Jill Williams
Miriam Long
Larry & Roslynn Curtis
During the spring of each year as we also ask teams to record their hours for visiting. In keeping tabs did you know that we have over 147 facilities that we either actively visit or have requests to visit? The actual number of team positions that were logged into Neon numbered 418 spots for visiting. At the banquet we were able to rank the top ten teams who have contributed the greatest number of hours. This article is to thank all of the teams who are contributing their hours in therapy work. There is still a lot of work yet to be done.
The top ten teams ranked by number of recorded hours for 2017 are:
Susan Reuter
Diane Atherton
Rose Drennen
Judy Thomas
Patricia Finley
David Eib
Ann Duffin
Paula Weller
Nancy Anderson
Bruce Paul
We know that our members spend countless hours getting their pets qualified and certified to do this work. As a volunteer organization we are encouraging everyone to record and submit their hours to tell of the impact we have with strength in numbers. As a community we want to share a common appreciation for our members. Let's get to know one another and thank everyone at our next meeting for being a part of WAGS. We deserve to know each other even better.
Angels in Fur
written by Ann D'Angelo 
                               April 2018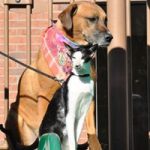 Religious texts as well as folklore are filled with tales of visitations to earth by angels on divine missions. They may appear as messengers, protectors, or ministering spirits, and are renowned for their angelic specialty of bringing "tidings of great joy." With angels appearing in such a variety of shapes and forms, I've often wondered whether some of our therapy animals who comfort the sick and dying, and bring smiles to abused and neglected children are not another form of angel – an angel in fur.
I remember attending my first WAGS meeting at the Presbyterian Church in Anchorage. I was amazed at the room full of friendly dogs of all breeds, shapes, and sizes who greeted my cat Horus like he was an old friend. Perhaps they recognized a kindred spirit. While obedience can be taught, that innate desire to nurture sick and dying humans is a special gift. After Horus had been tested and met his qualifications to be a therapy cat, I especially remember our early days visiting a Hosparus patient in a nursing facility. She loved cats, and while Horus enjoyed being petted, he surprised me and delighted the patient by crawling in bed and curling up at her side without any urging. It was what he instinctively knew would provide comfort. One Saturday afternoon we arrived for a regular visit and our patient was dying. Her family had gathered at the bedside for final farewells. One last time, Horus insisted on curling up beside her while I visited with the family. They had all heard her talk about the visiting cat and how much he meant to her in the final weeks of life on this earth. WAGS members can recall countless similar stories where their dog or cat innately knew what to do at times when words were at a loss.
At a local facility for abused and neglected children there are always happy smiles and calls down the hallway when the animals arrive. The dogs and cats sit patiently while two or three children at a time hug and kiss them. They calmly accept the commotion and chaos that always accompanies these visits. The children have endured hardship and rejection that none of us can even imagine. The pain they have suffered often leaves emotional scars, but they are readily loved and accepted by the therapy animals that visit. Time and again I have witnessed the joy these animals provide to the sick, dying, and disadvantaged. It does not matter whether a patient is rich or poor, or whether the odor of death is heavy in the air. They ignore the unlovely, and simply do their work of bringing joy and comfort with patience and kindness.
Therapy animals serve as an example to all of us, and if you believe in angels, perhaps it's not so far-fetched to wonder if they are really angels in disguise. I sometimes marvel at the fact that I've been blessed with not just one, but two feline angels in fur – Horus and William. Horus suffered a slight stroke several years ago and visiting is no longer an option for him. William left me much too soon. Both cats have left behind memories for many people who remember them. For me, they have been incredible companions, but I always recognized that each of them had a mission. William was an angel in fur, but of course, that has never been an option for Horus the Sphynx cat. I like to think that perhaps he is simply an angel in peach fuzz…
Frito's Story

 
  written by Paula Weller
January 2018 

In December 2004, I went to the Animal Care Society to make a donation for Christmas. While there one of the ladies asked me to visit the cat room. As I entered the room a brown tabby (Frito) approached and wanted me to pick him up. I put him down, but he kept wanting me to pick him up. The lady said that it looked as though I needed to adopt this cat. I had never had a cat. I went home and brought Cricket my therapy dog back to make certain that they would get along and of course, they did. I kept his name.
He was found with his kitten sister by construction workers eating their lunch. They took them to animal care and named them Frito and Cheeto. Frito was nine months old when I adopted him. He is now 14. Frito has been visiting for four years. He began the year I retired Cricket, my therapy dog. I have been visiting for 12 years.
I feel as though I could write a book about my experiences with both Cricket and Frito. One memorable visit was at Baptist Hospital. Frito and I visited Coronary Care one day and visited a man whose wife was visiting him. He particularly liked Frito. A week later, I received a call from the volunteer office stating that a family had requested Frito in the Palliative Care Unit. As it turned out it was this gentleman. Frito visited and sat in this man's lap for 2 hours. The gentleman would not let anyone take Frito. His wife said that ever since Frito had visited her husband in CCU, all he talked about was Frito. After our visit we planned to visit him in a couple of days. The man passed away before our next visit.
Frito visited a lady at a nursing home who is bed bound and must remain flat in the bed. She loves Frito. As soon as I lay him in her bed, he crawls up to her and she covers him up with her blankets. She pets him, but you cannot see Frito. She always tells me that I can leave him with her and I can go about my way.
Another story about Frito at Norton's Hospital was when I was asked to take Frito into a lady's room that they were having difficulty with. The patient was elderly and hallucinating. I spoke to her and put Frito into bed with her. He crawled right up by her. She became completely calm. While Frito lay beside her, two nurses were able to get IV's into her and take blood samples.
In his retirement, Frito plans to spend more time on the screened-in porch watching the many animals that visit. We have 9 bird feeders, deer, rabbits and skunks that regularly visit. In fact, as I am writing this, he is outside on the screened porch enjoying himself. Of course he loves following me around. He intends to sleep about 18 hours per day.
One lady that worked at the nursing home stated that she loved Frito because Frito liked everyone. It does not matter what physical or mental problems you might have, he will cuddle with everyone. He has taught me patience and kindness. Frito has opened many doors for me to visit and meet new people. I absolutely love this cat. He can sense needs. He knows when someone needs cuddling. He is referred to as the "hugging cat" at Norton Hospital by the staff.
Although I am sad not to have a visiting animal, I intend to stay a member of WAGS as a trained assistant. I love animals and people and WAGS is the perfect organization for me. I believe in the values of WAGS.