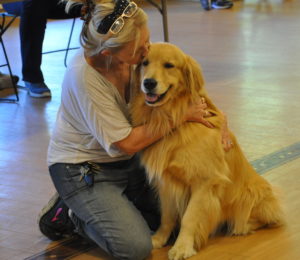 We long for an affection altogether ignorant of our faults. 
Heaven has accorded this to us in the uncritical canine attachment. 
                                                     ~  George Eliot
Wonderful Animals Giving Support (WAGS) is a not-for-profit, all volunteer organization dedicated to bringing people and pets together for companionship and therapy. Founded in 1999 by Linda Laun and Sharon Gretsinger, WAGS members and their certified Pet Ambassadors have volunteered thousands of hours visiting hospitals, nursing homes, schools and other facilities throughout the region in an effort to promote and share the special, healing bond between humans and animals. While many of our members are Ambassador Teams that volunteer and visit with their animals, you do not have to test or visit with your pet to be a member of WAGS. Our growing membership currently boasts over 240 active members & 91 Ambassador Teams.
Through community outreach events such as Bark In The Park Waggin' Trail 5K, WAGS volunteers continually recruit new members and share the positive effect of pet therapy. A therapy pet can provide a child with encouragement and confidence while learning to read. Research has shown mental stimulation and rehabilitation occur much faster when a pet is introduced during their therapy. The uplifted moods produced by these animals when visiting senior citizens and hospital patients has a positive affect on their outlook and condition. Ambassador teams have touched the lives of many during their years of service.
Through the monthly membership meetings, members have opportunities to socialize their pets, share their own experiences of facility visits , and experience continued education on pet related topics. Individuals interested in joining WAGS are always welcome to come to a WAGS membership meeting and orientation. There you will meet other members, learn about our visiting teams, and the various activities and events we are involved in, and learn how to take their first steps to becoming a WAGS member. There are many ways to participate in the organization volunteering your skills and talents! Our volunteers enjoy animal companionship and believe that our daily lives are enriched by their presence and interaction.