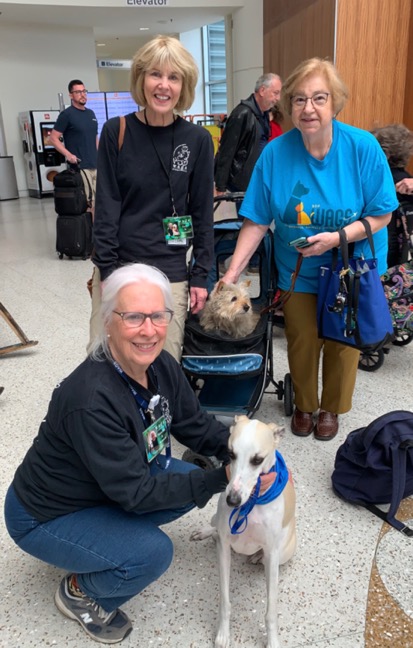 AMBASSADOR TEAMS AT THE AIRPORT
By Julie Hines (The Roving Reporter)
Oh, how many stories the "Airport Crew" have to share! It has been very difficult to choose the ones to include in this article. Most airports recognized the need to calm passengers at their gates after 9/11/2001, and what better way to do it than with a wagging tail?  In 2019, the same year the Louisville Airport was renamed the "Louisville Muhammad Ali International Airport", WAGS was contacted to provide therapy dog teams to visit with passengers at the gates.  There were 58 airports in the United States that had therapy dog teams in 2018, we were one of 15 new programs implemented in 2019. Today there are 74. When the program began, we had at least 20 teams participating, however COVID reduced those numbers by more than half. Donna Parks relayed that she was shocked how few teams we had when, after not having a therapy dog in a while, she came back with her well-dressed Maggie. It is Linda Laun's expressed desire to have more ambassador teams participate in this wonderful program. However, it goes without saying, that we have too few teams to cover the need in our community.  If you decide to join the Airport crew, you receive a parking pass and a pass to get through TSA, so no worries there. The TSA agents enjoy visiting with your dog on your way through security. Signing up is easy, under Visiting Information on the WAGS Website, click on the Airport Add/Drop Form, fill out the form and Linda will contact you. This is a wonderful place for new teams to get experience visiting, so please consider it.
Here are a few of the wonderful stories that were shared with me: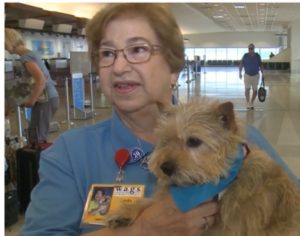 Linda & Penny Laun
Linda Laun shared that she and her Penny were once approached by a family with small children who were saying a very emotional goodbye to their father. He was headed overseas for a tour of duty.  The kids became so distracted by Penny that when it came time for their dad to board the plane, the kids hollered a quick, "Oh, bye Dad" and went on giving their attention to Penny. Linda and the very experienced Penny visit with Mac Barr and his beautiful Jessi, and Marcelle Gianelloni and her Whippet, Bennett. They are joined by their Trained Aide Pat McCullough.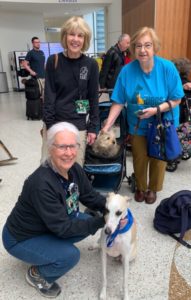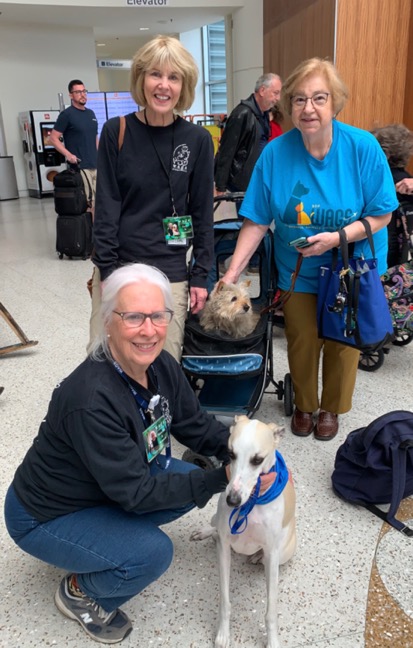 Judy Thomas, Marcelle and Bennett Gianelloni, Linda & Penny Laun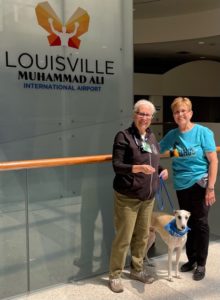 Marcelle & Bennett Gianelloni, & Pat McCullough
Donna Parks shared many stories, but my favorite is that she took Maggie out of her stroller to do some tricks for a few people and by the time she was done a crowd had gathered behind her, taking pictures and videos. People did not know they'd get free entertainment while waiting at the gate. Donna visits with her Trained Aide, Pat McCullough, who shared that as an Air Force wife, she is especially gratified to be able to support our military families as they endure tearful goodbyes. They visit on the second and fourth Tuesdays of the month. Please consider joining them in spreading joy and comfort throughout the airport.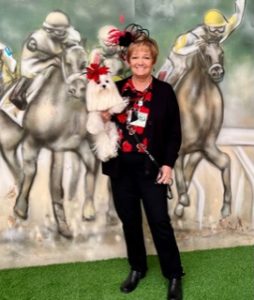 Maggie and Donna Parks
Terry Graney shared that she and Ariel visited with a young lady who was traveling alone and had never flown before. The young lady thought she had gotten there in plenty of time, but TSA had been so backed up that she missed her flight. Needless to say, she was very anxious and therefore so appreciative of the calming influence of both Ariel and Terry. They visit with two other teams, Sharon McDermott and her little trick-star Patches and Elaine Farris and her wonderful Cricket. Donna Parks and Maggie join them from time to time. They have a lot of fun spreading joy throughout the Airport and, from firsthand experience, I can testify they are a great group to tour the airport with. They will happily teach you all the ropes, as will any of the airport teams.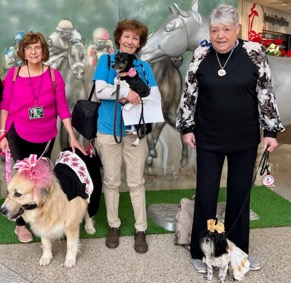 Terry & Ariel Graney, Elaine & Cricket Farris, Sharon & Patches McDermott
Judy Thomas shared, as many teams did, that they often see people who are traveling because of a family member's or their own illness. As you all know, our dogs are a great comfort in those situations. Her most special memory is of visiting a young girl and her family heading to Disney World to celebrate her birthday as part of the "Make A Wish" program. Waiting at the gate for this bittersweet trip to begin was made easier for this family by the young girl's affection towards Foster. Besides Foster (her granddog), Judy also visits the airport with her dog, Spencer, and with Jill Williams and her gentle giant, Paxton. They are helpfully joined by their Trained Aide, Margaret Cassady.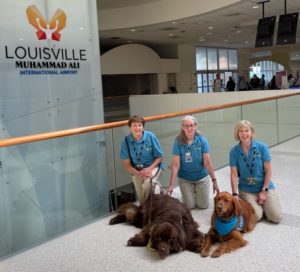 Jill & Paxton Williams, Margaret Cassady, & Foster & Judy Thomas
Jennifer Smith shared many stories, she told how her JuJu gets really excited to be at the airport and seems to pick people to visit who need her special "JuJu Vibe". She and JuJu, joined by their Trained Aide Kathleen Duane were at the airport right after the 1/11/2023 FAA computer glitch shutdown all the airlines. The news crews were still there, and WHAS ended the story that night saying, "If you're at the Airport and feeling nervous and unsettled……. Don't worry, JuJu's Here!"  
Jennifer is currently on disability leave because of a broken foot. We all pray she is back to spreading "JuJu Vibe" soon.  Jennifer relayed that she was fortunate to have visited with Ann Duffin and her special dog, Luna for some time and is looking forward to finding another team to join them when she is able to get back to it.
Luna Duffin & JuJu Smith
All the teams expressed great gratitude for the Trained Aides that are immensely help getting them through security, with their bags, shoes, dogs, and for some, a stroller. Four hands are certainly better that two.
Please consider joining the "Airport Crew" participating in these very fun visits that showcase WAGS like no other. It is a great place to get your steps in, or if you prefer you can visit travelers in the TSA line.