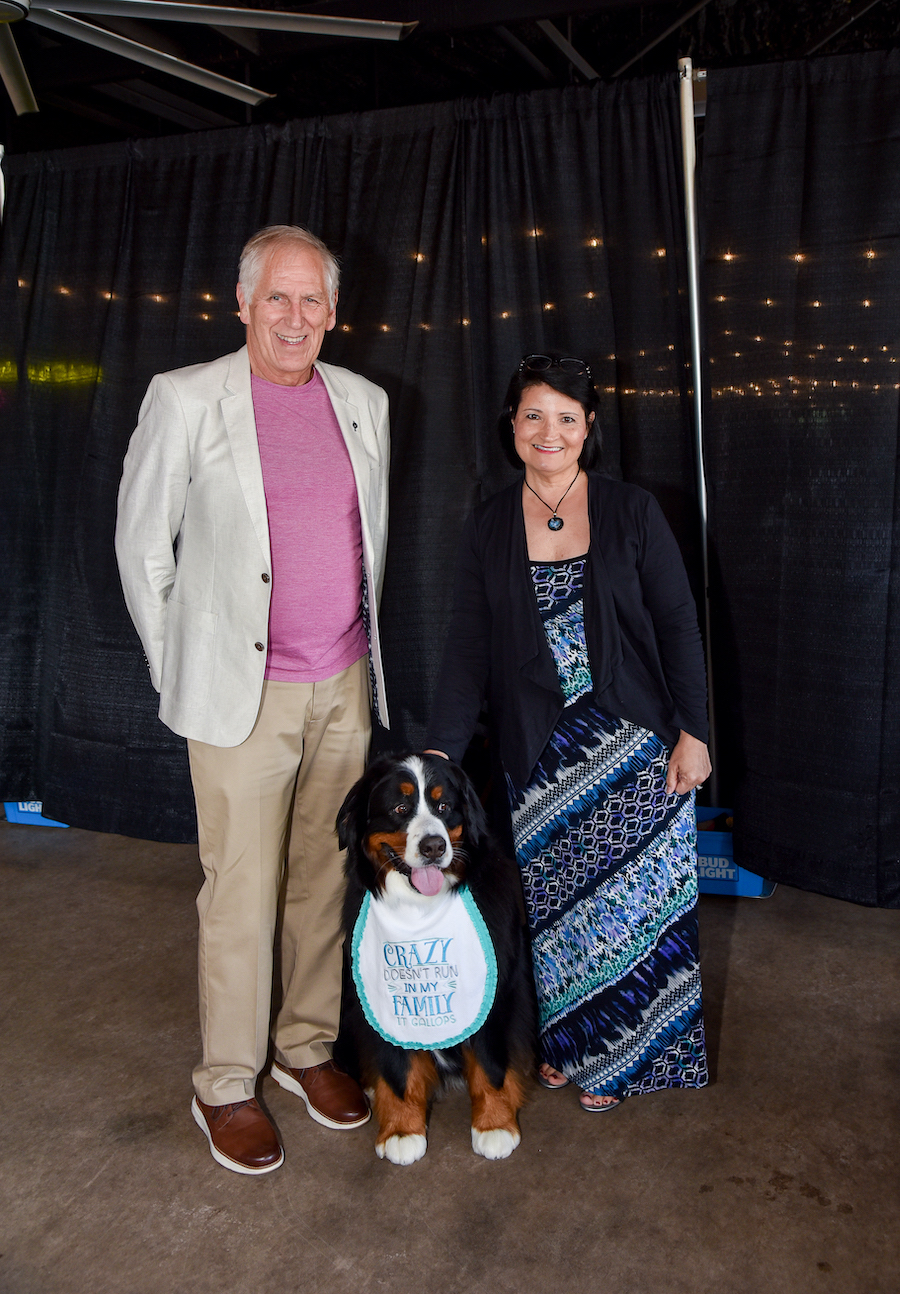 Getting to Know You!  ~
Meet Frances and Jeff Burton!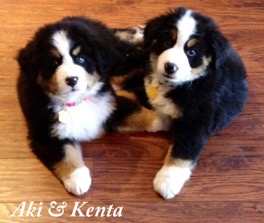 How did your family choose your dog?  My husband maintains that dogs "show up at the right time". Others take a more reasoned approach, or in the case of the Burtons, serendipity followed by reason. Jeff Burton came across an ad from a breeder in December 2013 for a Bernese Mountain Dog that inspired him to call and inquire.  That litter was already taken, but the call inspired his wife, Frances, to start researching.  She quickly became swayed by the breed, particularly since they are known to train easily.
When the breeder called back in the spring with news that there was a new litter, they made the drive to Austin, Indiana to check them out.  By then, Frances had a list of qualities she was seeking in the dog. Five of the 11 pups made the cut.  One of the girls went right up to Frances, which should have made the decision easy.  But, one of the males hung out with Jeff and Allison.
The family mulled it over, with Frances listing the pros and cons. They decided the pros for two dogs were strong enough to commit to both.  Aki (Japanese for "Bright and Beautiful" and Kenta (Japanese for "Bold and Strong") joined the family. After the decision was made, an old friend reminded her that, years ago on seeing a Bernese Mountain dog she had announced, "One of these days I'm going to get one of those."  She had forgotten all about this incident, but it surely came true!
More research – Frances discovered WAGS when the dogs were 2 years old and the Burtons went to a meeting.  Patti Finley was there and the "Berner" dog families hit it off.  The Burtons said Patti has been their "WAGS consultant", advising them on further training options, getting them evaluated and set on their pet therapy course.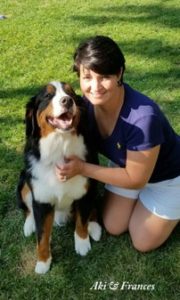 The dogs began their training at home, then went for Good Citizens at Pet Smart, followed by more training at Shamrock Acres Training & Kennels. They believe in continuous training, and have taken the classes in obedience, rally, and eventually agility with Kenji.  At the time the pups came home, Jeff was practicing pediatric medicine locally and once a week in Taylorsville.  As soon as they were old enough, he took them to work with him in Taylorsville, which he said delighted his young patients.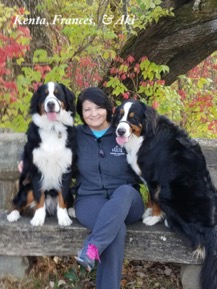 Aki and Kenta went on to become WAGS dogs, and Frances and Jeff became Ambassador Teams in 2016.  Once Jeff retired, they enjoyed a regular circuit of visits. Frances, who is still employed, came along as a Trained Aide after Aki received her wings.
Every WAGS therapy team can tell you the story of "the visit", the one that affected them most profoundly and helped them see the true value of this work.   For the Burtons, their moment was with a toddler at The Kidz Club in Portland.  He was deaf, and although he had hearing aids, he had never made a sound.  The delighted squeals he made while petting Aki and Kenta were the first sounds ever heard by staff and will never be forgotten by those present.
Sadly, the life of a Berner is not long, and Aki passed at age four. Not wanting Kenta to be an "only dog", they adopted Pocki in 2019.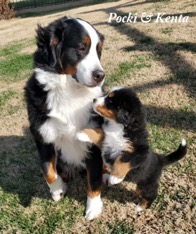 Pocki is your typical third child – rambunctious, over- zealous, and "90 pounds of hyperactivity". But she's great with people, loves to play, and passed her evaluation test on the first try! Patti told the Burtons now they have "a real Berner"; she claims the first two were a bit of good luck in the temperament and training areas.
Out of the blue, Frances' sister had a pup who needed a home in November 2022.  Little did the Burtons' know the answer to their question, "Why did we get a third dog???", would come so soon.  Aki was met by her littermate sibling brother, Kenta, when he passed in late December 2022 following a severe respiratory illness that was exacerbated by unknown lung cancer.  Kenji, a 42% Great Pyrenees, along with cattle dog, Australian Shepherd, retriever, and German Shepherd mix joined the family.  Pocki has a worthy playmate!  And we are sure Pocki will help Kenji train for WAGS work.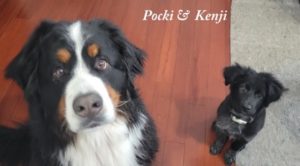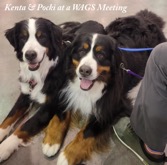 Jeff may call himself retired, but he has a full schedule with his WAGS visits. He works with Kidz Club on Preston, autistic kids working toward being mainstreamed at HopeBridge, the patients at the memory unit at Hallmark House, and the patients and staff at Norton Brownsboro Hospital.  Pocki, with her outgoing nature, is a real favorite with the staff at the hospital.  Jeff and Pocki see every age group as they make their rounds through the town.  And as if that is not enough, he is also the WAGS Treasurer.  Like many a WAGS volunteer, he also picked up "side jobs" such as taking care of the newsletters. And did you recognize him under the Santa's beard at the Holiday Brunch? WAGS surely is lucky to have the Burtons!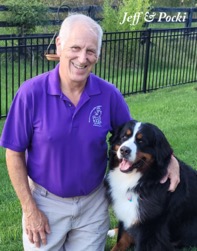 How can you add this richness to your life? For those who are not retired, or perhaps have other commitments, Jeff assured me that some of these visits may only be 30 minutes in duration.  Therapy work can really be tailored to fit any schedule and amount of time.
Jeff suggests you come to a monthly WAGS Membership Meeting (www.kywags.org). He notes that, although members his age often have more time, there has been an influx of enthusiastic younger people who are really contributing to the group.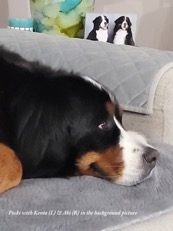 Start at the "Welcome Waggers" table, where you are sure to meet people as enthusiastic about dogs as you are. And people who would love to help you get your dog ready to become part of a therapy team or find your niche in this fun group.