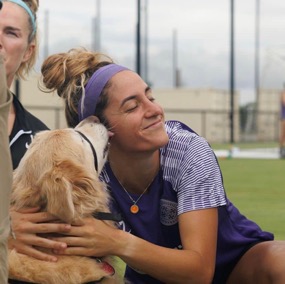 From GRAAND Dogs to WAGS Dogs

From GRRAND to WAGS: Rescue to Caregiver
By Buddy Cutler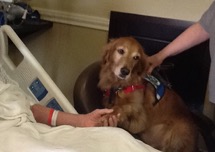 One of Diana Cook's fondest memories of her twelve years (and still counting) on a WAGS Ambassador Team was a visit with a stroke victim whose speech had been affected so much that he was embarrassed to talk with visitors. Talking with Diana and feeling her Sonny's complete attention without an ounce of judgment, his self-consciousness disappeared and he spoke more than he had in weeks.
Diana adopted Sonny in 2008 from Louisville's Golden Retriever Rescue and Adoption of Needy Dogs, GRRAND, which has been rescuing, rehabilitating and rehoming dogs since 1994, just four years before WAGS was founded. In the past 25+ years, both organizations have grown exponentially to fulfill their missions. Every year, GRRAND rescues over 250 dogs, and WAGS volunteers provide over 12,000 hours visiting with their pets.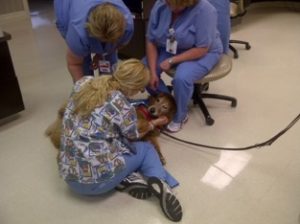 At least three dogs adopted from GRRAND are now on WAGS Ambassador Teams, Diana and Frankie (her and Ben's second GRRAND dog), Julie Hartwein and Callie, and Buddy Cutler and Millie (his and Carol's second GRRAND dog). (I apologize to anyone I may have missed and, I hope, they will let me know.) Many others have been on pet therapy teams in the past, and at least two WAGS members have recently adopted from GRRAND and plan to train their dogs as WAGS therapists. Thanks to GRRAND, pet therapy teams have also visited many facilities in Southern Ohio, Northern Kentucky and the Lexington area, where GRRAND also finds forever homes for their rescues.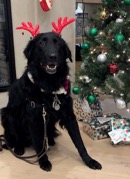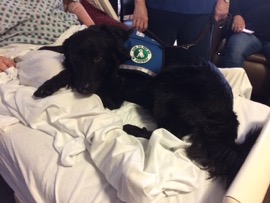 Diana first realized that Sonny "was born to be a therapy dog" when they passed their evaluation. Sonny met everyone "with kindness and enthusiasm." Diana's second GRRAND dog, Frankie, needed some patience, training and time to mature and is now a sweet therapy dog.
Diana and Frankie visit Baptist Health Oncology and Women's Health units and Magnolia Springs assisted living and memory care units. Prior to Covid, they visited residents at Anthology and several other facilities, but even when Covid prevented visits, they joined a drive-by birthday celebration for residents at Anthology who cheered enthusiastically for Frankie as they drove by.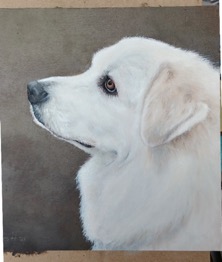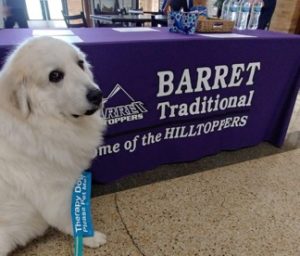 Callie is the first dog Julie and her husband have had since childhood. As Julie says, it was Callie who adopted them. GRRAND volunteers drove for hours to rescue Callie from a high-kill shelter and to provide her the medical care she desperately needed. Julie's inspiration for therapy work originated from their daily encounters with people they saw while on walks – "to see their eyes light up, mouth form an 'O' and then a smile" -- so she looked for ways to share Callie with those who needed "some floof in their day."
They visit Barret Traditional Middle School and many special events. Julie well remembers Callie making a special connection with one student who, Julie later learned, was dealing with some difficult stressors. Sensing that he needed special attention, Callie looked deep into the student's eyes and touched her nose to his. The young student returned to see her multiple times.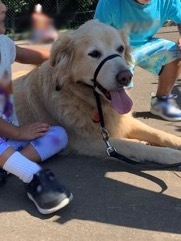 Buddy and Carol adopted Millie in 2012. GRRAND rescued Millie, her mother and her litter-mates after they had been abandoned in the snowy January mountains of Eastern Kentucky. Their foster family lovingly restored their health. Carol and Buddy knew Millie was the dog for them when, of all the pups in the litter, Millie was the first one to approach them for play and petting. Buddy and Millie began giving pet therapy with WAGS in 2018 and now visit the Kidz Club-Dixie (daycare for children with a medical condition which requires skilled nursing or monitoring), Frayser Elementary School and various special events. Buddy fondly remembers how Millie was a welcome catalyst to an extremely shy pupil at Frayser who was excessively fearful of reading to others. She read willingly, however, with Millie in her audience.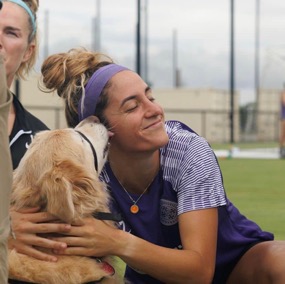 Like many other breeds and mixes, golden retrievers are well adapted for pet therapy. The AKC rates them a 5 of 5 for Openness to Strangers ("Everyone is my best friend."), Adaptability, Trainability, and Good with Young Children.
Both WAGS and GRRAND depend solely on volunteers. While they both make an impressive contribution in our communities, both need many more volunteers. More facilities seek pet therapy from WAGS than our volunteers can provide, requiring us to turn down too many facilities seeking pet therapy in the Louisville metropolitan area. GRRAND has recently been inundated with requests to rescue abandoned dogs. The demand has become acute following the pandemic when so many people who were staying at home acquired dogs for companionship but gave them to shelters after they returned to their workplaces. Jane Sonntag, one of GRRAND's founders, described their need for foster homes and other places to house rescues as dire.
GRRAND and WAGS truly complement each other. While GRRAND's mission is to reduce the number of homeless or abused golden retrievers, it also provides opportunities for humans to experience the joy of canine companions and furthers WAGS' mission to utilize the relationship between humans and animals to enhance health, independence and quality of life. GRRAND President Nina Scott noted that both organizations share the goal of supporting the local community. What she loves about WAGS is that it "showcases what rescued dogs, as well as other dogs, can do for the community." WAGS President Andrew Gillette summed up this synergy: "The beauty of WAGS is our innate collaboration model. We are thrilled to work with GRRAND when possible, and the intersection of membership/volunteers is a testament to how well our missions complement each other."