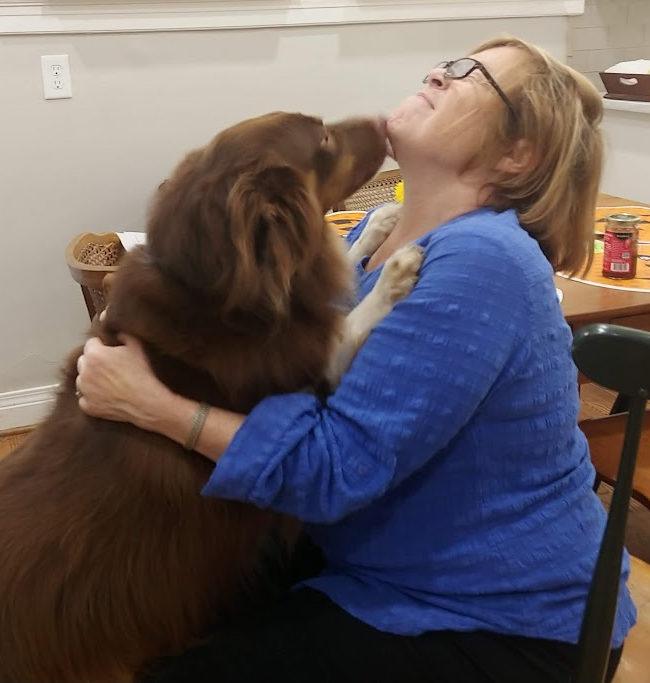 Meet Gail Henson & Rusty!
Congratulations Gail Henson for the amazing work with Rusty to become a certified pet therapy volunteer DURING A PANDEMIC! Gail graciously agreed to share the good news about Rusty and the following is from her.
"What's not to love about Rusty, a four-year old red Australian Shepherd? Australian Shepherds need a job--they round up animals, they're prey-driven, they want to work. He was a rowdy pup who loved to chase squirrels and work on agility games - anything quick and active. Honestly, Rusty was extremely hard to handle, not to mention being an escape artist. To keep him, I had to commit to training him in a way that he would be a dog with which I could walk. I found a dog whisperer trainer, and after almost two years of rigorous training, Rusty the Wild became Rusty the Cuddly Furball.
I have been involved with Hosparus since a 2004 Bellarmine research Sabbatical, volunteering with nursing home patients and 11th Hour. I had really missed the interaction with patients when visits were suspended due to COVID. However, volunteer managers continued to offer opportunities to serve with care package and flower deliveries. While I was in the volunteer office picking up assignments, on the bulletin board I saw the pet therapy trading cards of the volunteers associated with WAGS, Wonderful Animals Giving Support. 
Knowing we could not visit patients, I began the process of becoming a WAGS team, an 18-month long process. Rusty and I had numerous evaluations to take, including monitored visits before we were certified.  Now this 70-pound bundle of auburn fluff can work as a soothing creature for a child to hug, a stressed healthcare worker to stroke, and a listening ear for anyone.
I still have my nursing home patients to visit, and I look forward to visiting with staff who might need Rusty's intuitive responses or residents in long term care facilities who need touch. Stroking a dog brings calm and comfort in a powerful way.
Volunteering with Hosparus Health has profoundly touched my life and shaped my thoughts on the sacredness of its mission. I hope that Rusty will touch people--whether staff or patients-- who might need something that a human can't provide and give some grace and pleasure to that person."