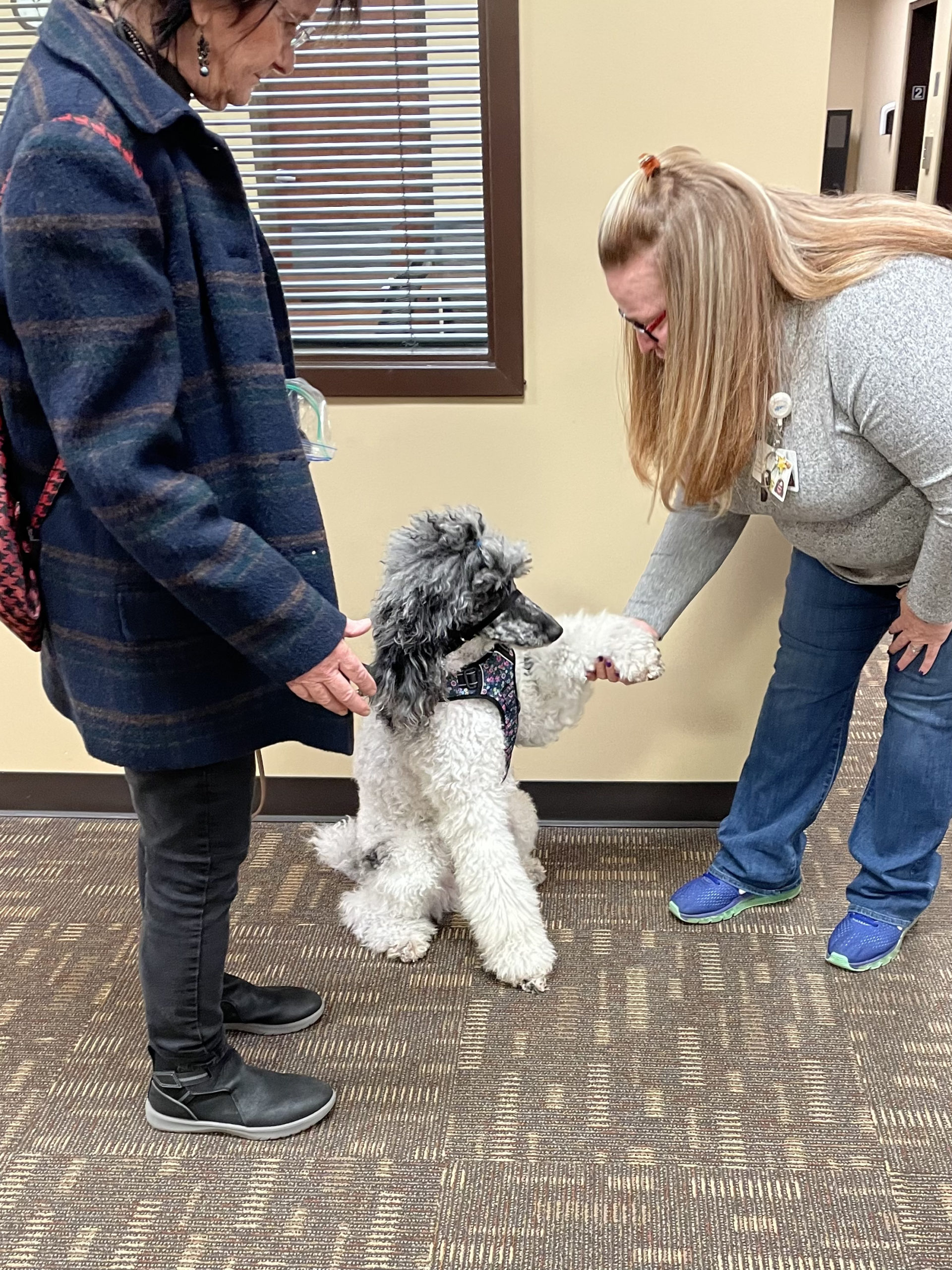 Hosparus Health and WAGS
By Ann Duffin
Hosparus Health and WAGS work together to provide compassionate care for those impacted by serious illness. There are now 7 WAGS teams volunteering with Hosparus Health in a variety of roles. Some visit with children in their Kourageous Kids program and Grief Counseling Center. Others visit patients where they reside (home, nursing home, hospital). Hosparus Health also provides continuing education throughout the year on topics such as dementia, communication, boundaries, caregiver fatigue and disease progression.
Volunteer manager and WAGS member, Sky Yeasayer, has been instrumental in assisting WAGS teams prior to evaluation by providing a supportive training environment. Hosparus Health has also given WAGS members the opportunity to schedule Mentored Visits at the office with employees.
WAGS team Anita Kotheimer and her standard poodle, JB worked with Sky while JB was in training to be a therapy dog....
"Since retiring from my practice of OB-GYN, volunteering for Hosparus has always been on my mind. Thanks to Melanie Broughton it became the best decision I have ever made. My hopes were to also volunteer my services with a therapy pet after JB was evaluated. In speaking with the volunteer manager, Sky Yeasayer, he encouraged me to pursue my path. The support he offered was more than I expected. His encouragement for others never fails to amaze me. After coming out of Covid he built a network of volunteers... It is so exciting to be a part of this team." Anita Kotheimer
If you're interested in becoming a Hosparus Health volunteer, just complete a Volunteer Application at Hosparushealth.org. Sky Yeasayer, Volunteer Manager will reach out to you to set up some times for you to go to the office and visit employees with your dog. This will give you the opportunity to see how your dog visits, and to practice on elevators and stairs. Hosparus Health/WAGS volunteer Melanie Broughton will also support you during this process, as well as team leader, Ann Duffin.