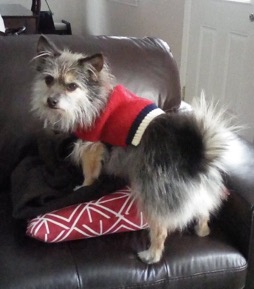 Honoring Luna
By Ann Duffin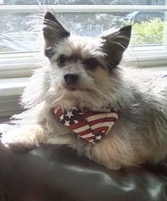 I wanted to take a moment to honor little Luna and the great work she did for our community for over 9 years.  She lost her battle with kidney failure this past December.
Luna had a rough start. She found herself at the shelter after being abandoned on a cold January day with a few other little dogs at Seneca Park.
I had been visiting the shelters searching for my first small dog for several weeks.  I'd done a few "meet and greets" with Star (my border collie mix therapy dog) but the little dogs would aggravate Star.  Then, one snowy day I walked by an enclosure with several small dogs.  They were all barking, except Luna. Her eyes followed me each time I waked by her enclosures.  We. had a meet and greet with Star, and it was a success!  She was such a sweet, scrappy, curious dog.
I brought her home on Super Bowl Sunday.  My family came over that evening, and when they opened the front door, out walked Luna.  She trotted down the street and we all ran after her.  Star caught up with her first and guided her back to us.  That the last time she tried to leave us.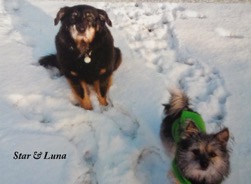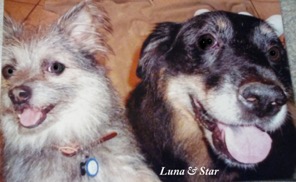 I don't think Luna had ever walked on a leash, so it took some work (and Linda's pet therapy class), but we passed our WAGS Evaluation 6 months later!  She went to work providing therapy for Hospice patients, hospitals, mental health facilities, nursing homes, the airport and numerous special events.  When we walked down the hall in the hospital, she'd peek in each room as if to say "I'm here – you can pet me now". She had such heart and seemed to know just what people needed.
Luna had a Hosparus child patient that she visited twice a month for over 6 years (until he died in 2021).  He was unable to move, so she would lay next to him while his mother moved his hand over Luna.  You could watch his heart rate go down as Luna was sitting there.  They were buddies, and any time someone was moving him, or suctioning, she was intently watching out for him.  She even tolerated putting on a Halloween costume for him. J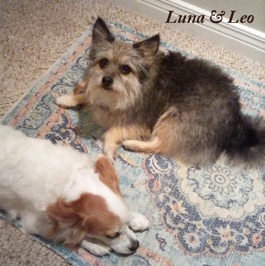 I also adopted Leo from the shelter.  Luna was so "motherly" toward Leo. I was in mourning for Star and was looking for a small dog similar to her (large, fluffy, black female.) Well, I came home with Leo, a little white male. He wasn't' getting chosen at the shelter since he was so fearful, but had the cutest little prance – and those big ears!!  The employee had to carry him out to meet us (Luna and me), and he sat right down by me.
He was afraid of everything – even leaves falling off the tree.  A few weeks later, he started having major seizures.  I contacted the shelter, and it was then that I found out that sweet Leo had been thrown from a car.  He got over most of his fears, and is so sweet.  Luna would leave the room when he had a seizure, but came back in when it was over, and licked him. She also licked him when he was getting nervous or stressed out.  I haven't washed her dog bed yet, since he still walks over and sniffs it.
I was so lucky that Luna found me.