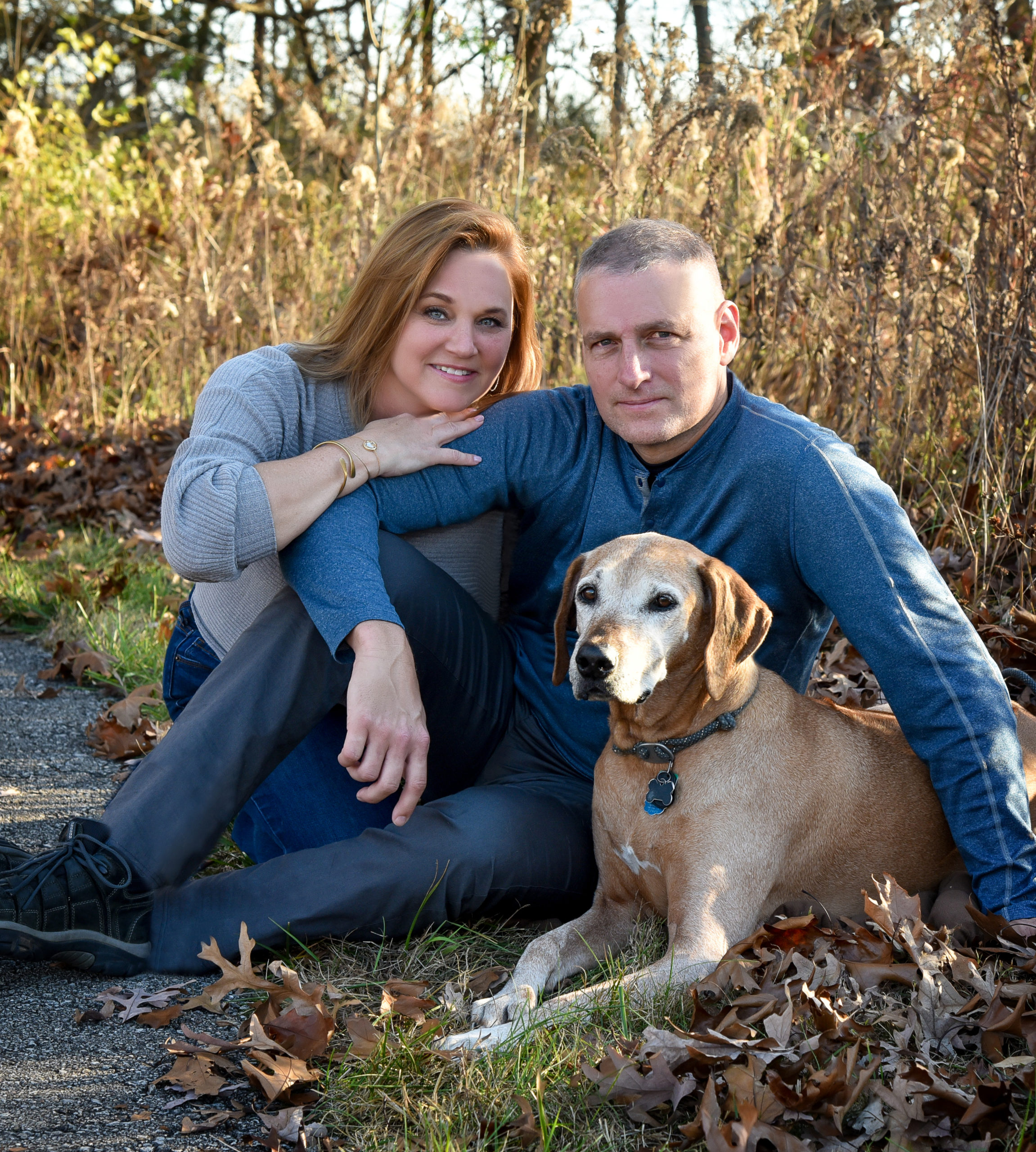 Getting to Know You!
 Meet Shannon, Jim, & Lira Wells!
One thing all the Waggers have in common is a love of animals, and Shannon & Jim Wells are no exception.  Yet, as I've discovered after doing a few Getting to Know You! columns, every WAGGER has come to the organization by following a unique path and bringing distinct talents to the group. Working as an Ambassador Therapy Team, helping as a Trained Aide, taking professional photographs of members and events, and helping our treasurer, Jeff Burton, with the books are ways Shannon and her husband Jim are contributing.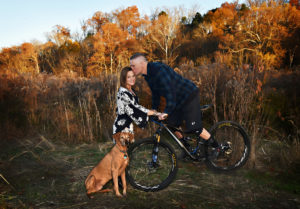 This dynamic couple has traveled all across the country including Moab, Utah, Bentonville, Arkansas, and Asheville NC.  What do all these locations have in common?  Great mountain biking trails!  They are strong enthusiasts, so when they began searching for a family pet, their research led them to Rhodesian Ridgebacks.  The year they began their research, a Rhodesian Ridgeback named Eli won at the Westminster Dog Show.  Eli's breeder lives in Fisherville, Ky. This breed is known for their desire to stay with their pack, their calm demeanor, and their strong desire to run.  Their first dog Moab (named after the city in Utah), was a chill dog who loved to run beside their bikes and who was related to Eli. Success with Moab led to the adoption of Kona, but as often with second dogs, he was anything but chill!  Although much-loved, he did not have typical Ridgeback personality characteristics. A few months after he passed, the breeder called looking for a home for a retired three-year-old show champion, Lira.  She was energetic but calm, playful with other dogs, and loved to run hard, followed by a good snooze on the couch. They planned all their family trips to include her, taking her camping, to the beach, and of course, biking.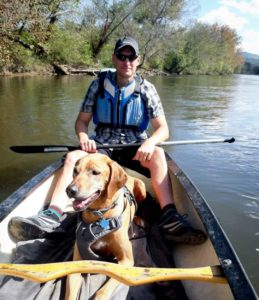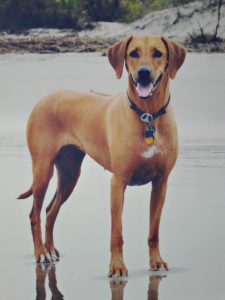 Rhodesian Ridgebacks are named for the ridge of hair that runs the opposite direction from the rest of their fur down the center of their back.  They are sighthounds that were originally bred to help hunters in Africa run down packs of lions that threatened their villages.  Working as a team of four to five, the dogs ran the lions to exhaustion, allowing the hunters to make the kill.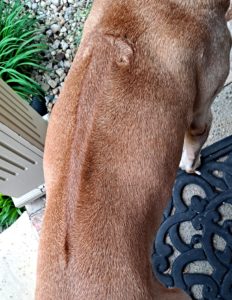 The Wells discovered how strong the prey drive was in in gentle Lira when they say a demonstration of Lure Coursing at a dog show.  Intrigued, they set up a course in their front yard.  A simple plastic bag (with no treats inside) is pulled around a wire course on pulleys.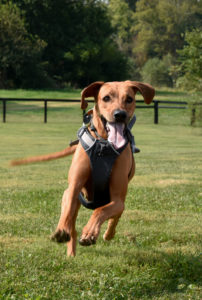 Lira loved the game so much that she would chase the bag until she dropped.  She quickly learned to cut corners to increase her speed.  She was quite a hit in the neighborhood, as people were fascinated with her drive and speed.
Lira also loved to run with the mountain biking couple.  Shannon recalled that when Jim would get ahead, Lira would hold back and wait until she caught up. On one excursion to the Pisgah National Forest near Ashville, NC they ran into an adolescent bear.  Certain the mama could not be far behind, they speeded on their way.  Fortunately, Lira was not along, and after that they decided she should sit out those rides!
Lira was such an attractive dog that she always drew a crowd, especially when there were kids.  They often commented on her ridge, asking if she is angry or afraid, if the used hair gel, or if it is a scar.  They loved to hear that it is just the way her hair grows.  After watching Lira be so sociable, Shannon's husband Jim found WAGS and loved the whole idea.  He felt it was a great fit for their family, and was completely gung ho – but this introverted accountant wanted Shannon to do all the visiting!  Fortunately, she was enthusiastic too, so they became members.
Until Lira retired, they were regulars at the Masonic Home. Shannon said until Glenda Marker and Boone joined her, they were the only team there, often visiting 20 patients in two hours. She reminisced about an 80-year-old man who was quite a flirt, calling them all his "girlfriends". And the visit where a woman with memory issues greeted her very warmly, calling her by a different name.  After the visit, the staff told Shannon that the woman had mistaken her for her daughter, who had died in the holocaust.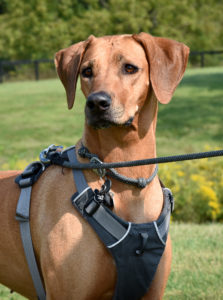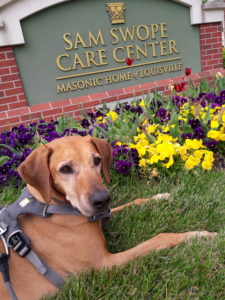 In addition to the Masonic Home, Lira went to summer reading programs.  She fielded lots of crazy questions and received great art for her refrigerator.  Jim, a former Mr. Kentucky model for Cosmo Magazine's "50 Bachelors from 50 States" series in the late 90's, found his visiting niche at the airport. He came along as their Trained Aide, joining Shannon and Martha Raymer with her giant fluffy Grand Pyrenees, Lily.
In addition to Therapy Team visits, Shannon is the WAGS photographer.  While in high school, Shannon was only sure about one part of her career path – she did not want a "regular" job. While she attended art school in Atlanta she also worked as an assistant to a wedding photographer.  She spent 25 happy years photographing simple to "over the top" extravaganzas.  She now does portrait and family photography as the owner of Leigh Photography.  Just a hint for those looking for that family Christmas card portrait – book now!  She also has a job most of us could only dream of – she is the traveling photographer for a client who designs trips for wealthy clients that include a beautifully bound leather photo album as a keepsake.  This job has led her to France, a polo match on a beach in Argentina, flamenco dancing in caves under Buenos Aires, a chance to view the stars in Patagonia with a professional astronomer, and a luxury train ride from San Francisco to Kansas City that had a double decker caboose with stadium seating with totally glassed in back end. The trip even included a "train robbery" for the passengers' delight.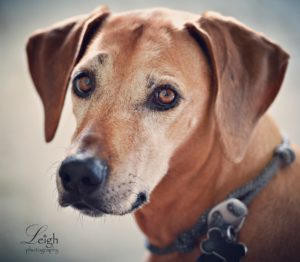 I could not resist asking Shannon for some pet photography tips. If you are like me, you have hundreds of pics – and several good ones!  Her first piece of advice – don't try this alone.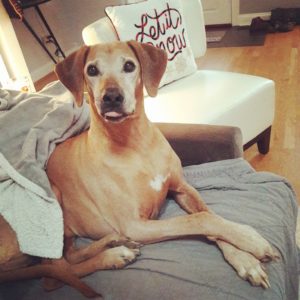 An assistant can make all the difference in creating a fun outing instead of one filled with frustration. Find someone who will help your dog focus on the camera, using treats or their favorite squeaker toy to get the dogs attention. If your camera has a "sports mode" or "burst mode", make sure it is on.  Dogs tend to move rapidly, and it may take 25 shots to get one good one.  Pick an area that is in all sun or all shade. It is challenging to move between the two and change settings fast enough to keep up with your moving dog. She prefers shade, but if in the sun, keep it at your back.  To my surprise, she suggested you use a flash in the sun. And, as a professional photographer whose work is copyrighted, she strongly recommends that you take photo releases with you on your WAGS visits.  It is much easier to get written permission at the moment than at a later date.  You can also access the WAGS photo release using your phone.
Lira enjoyed her Golden Years at home with her loving family. Sadly, she crossed the Rainbow Bridge just as this article was being finished. The Wells are heartbroken, but so proud of all the people she touched and the joy she brought to so many lives!