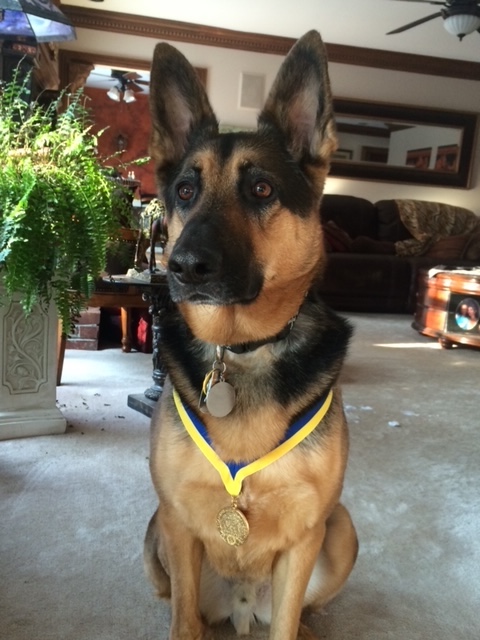 Tribute to Conan by Valerie Fazio
Conan, my magnificent German Shepherd, served as a WAGS therapy dog for seven years. He was quite a handful in his early years, so this was truly a remarkable transformation for him. Once I figured out how to re-focus all his mischievous energy — and give this working dog breed an actual job — he was exuberantly happy to know and fulfill his purpose.
As soon as his WAGS vest came out of my bag, he knew he was going to work. Silly, "puppy mode" would go into full force and I could hardly get the vest on with all of his excited dancing and circling around me. But once we arrived on scene, he took his job very seriously. He was ready to "go say hi" to whoever wanted a visit — giving nudges, getting petted, and showing off his tricks for some smiles and laughs.
I remember him performing for a woman at the Atria who we were interacting with. And he really had quite the repertoire to show her! Everyone else in the room was preoccupied and seemed uninterested. Or so I thought. When he finally finished his routine by "taking a bow" you could have heard a pin drop. And then the whole room full of about 30 people erupted into applause. One lady then yelled out "He's smarter and better trained than my grandkids!" The entire room roared into laughter!
On another visit, we arrived to find fire trucks and ambulances in the parking lot, quickly being told a resident had just fallen into the property's pond. Immediately on seeing this big German Shepherd in a work vest, helpers on the scene ran up to us and asked if Conan was there with the search and rescue team! Fortunately, the resident was returned to safety and not harmed. Although Conan didn't partake in the official rescue operation, he was there on site to help soothe people's nerves with his calm strength and comforting presence.
He loved his Norton Brownsboro Hospital visits and would sit with those having chemotherapy infusions, or stroll the hallways looking for new people to meet. One day, we were told not to go into a certain patient room because the person inside was dying and all the family was packed into the room. A few minutes later, a little boy came out of that room with his mother. As soon as the boy saw Conan, his face lit up — and Conan saw his moment. He definitely had a knack for knowing who needed him most, and the two were drawn to each other. The boys mother thanked me that Conan was there to play with and love on her boy in his time of need.
Conan touched many hearts. He lifted the spirits of those facing difficulties. He brought smiles and comfort to countless people, but saved his undying love and devotion for his family. When he retired due to the Covid shutdown, he continued to provide comfort and therapy to all of his family and his aging grandparents.
Conan has taught us many things about how to live, for which we are very grateful — but he completely mastered the art of how to love — and for that we are forever changed.