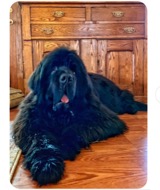 Vader Goes to Court
By Denise M Cunningham
On January 17, 2017, the Madison, Indiana 911 center received a call from the mother of a four-year old child relaying that her child, Rachel (name changed to protect the child's privacy), had been molested at her daycare center. Rachel had been the victim of this child molester repeatedly over time until she mustered the nerve to tell her mother. Rachel was not the only victim of these atrocities but other children allegedly also fell victim to the abuse since 2011. 
Law enforcement immediately became involved along with the State Attorney and victim advocate. In order to prosecute a claim, there must be a victim's statement. Rachel was overcome with trauma and due to her young age, this was a difficult case to prosecute.
The man was subsequently arrested and charged with four counts of child molestation. (State v. Joseph D. Hook, 39C01-1703-F1-00234) Because of the complexity to prosecute a crime involving such a young child, the State was having a difficult time, as it is not only a delicate and emotionally charge area of the law, but Rachel was also having an immensely hard time relaying the details of this atrocity perpetrated upon her.
In July 2018, our WAGS member, Jill Williams, was called upon by the Madison, Indiana States' Attorney to possibly help out in this case, as the child was scheduled to be deposed by the defense. It was the true calling of an angel. Jill and Vader immediately went into action and met the child so she could get used to Vader to prepare him to be with Rachel during the deposition.  The defense objected to Vader's presence and there were Court hearings held on the lone subject of Vader being present at the deposition - Jill and Vader are now etched in the law books of the State of Indiana. The Madison prosecutorial team prevailed and Vader was permitted to sit while Rachel was being deposed. It was a true act of "save the day." The prosecutor and staff had worked with Rachel for a year and a half, but it was the work of Vader (RIP) that brought this case to a successful end. The child was calm and answered the defense's questions without pause because of Vader's presence. This child and Vader bonded in such a way that protected her from surroundings of evil to calmly facing her offender.
WAGS is truly Wonderful Animals Giving Support. All of us strive to bring joy into others' lives, be it a senior center, hospital, school, or comforting victims of atrocities beyond our imagination. We are a group that brings goodness to those most in need. Jill and Vader, without hesitation, brought an ugly situation to one that brought this child to a place where she felt comfortable. This is another example of a job well done in their efforts to help an innocent four-year old child bring justice to an unfathomable act of injustice.
**** On September 15, 2022, a plea of guilty was entered and sentencing was set for November 23, 2022