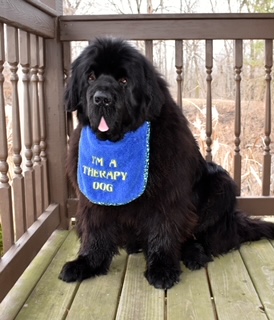 Vader crossed the Rainbow Bridge on February 8th, 2021.  He had just turned 8 years old on January 13th.  He became a WAGS Ambassador in October of 2016 so he had 4 years of service. He was an amazing therapy dog. He had such a gentle way with everyone he met.  Our best visits were at the airport, where they called him a "rock star".  
Vader's most remarkable work as a therapy dog was to befriend and support a young child in the court system who needed to testify in a disturbing child abuse case.  His bond with this child and his presence at her deposition gave her the confidence to testify, as previously she had refused to discuss the case with anyone.  He was her hero.  
He was my heart dog.